Pre-Finished Baltic Birch Plywood sheets, 3.5mm Thick, perfect for Glowforge/Laser Cutting
Regular price
Sale price
$5.25 USD
Unit price
per
19.75x11.75" Baltic Birch, 2 sided plywood with veneer core. B/BB grade.  Works perfect with Glowforge, Mira, K40, Thunder laser, etc...
Pre-Finished Baltic Birch takes all the prep-work out of your next project.  This wood comes with a durable Semi-Gloss clear coat already applied, saving you time so you can focus on crafting and not material prep.  Not only that but you save even more time because there's no need to mask it!!!  Just use a baby wipe or soft lint-free cloth to wipe up any laser char residue, saving you time and money.
***WE DO OUR BEST TO SHIP NICE, FLAT PIECES BUT PLEASE KEEP IN MIND THAT BALTIC BIRCH WARPS EASILY AT THIS THICKNESS****. Hold down pins or magnets are always recommended..
 Boards are cut 19.75" by 11.75" by hand. There may be very slight variations but they will be very close to the size listed. These boards fit perfectly within a Glowforge and cut/engrave perfectly.
We have been using this wood for over a year and are very happy with the results. This wood is great for all your crafting needs: Glowforge Hobby laser Wood Burning CNC machine Sign Making etc.
Recommended settings: Baltic Birch = Med Basswood ply (proofgrade setting).  These settings are a good starting point for your Glowforge but may need to be adjusted to your specific machine/conditions.
******
All Continental US and non PO Box orders are shipped via UPS Ground.  Shipping rates are as follows:
MDF/WHITE MDF/BLK MDF
Medium Box  $18 ---- 1-12 sheets
Large Box  $24 ---- 13-25 sheets
XL Box $32 ---- 26-50 sheets
ALL OTHER 1/8 MATERIAL, EXCEPT FOR POPLAR
Medium Box  $18 ---- 1-10 sheets
Large Box  $24 ---- 11-20 sheets
XL Box $32 ---- 21-40 sheets
Share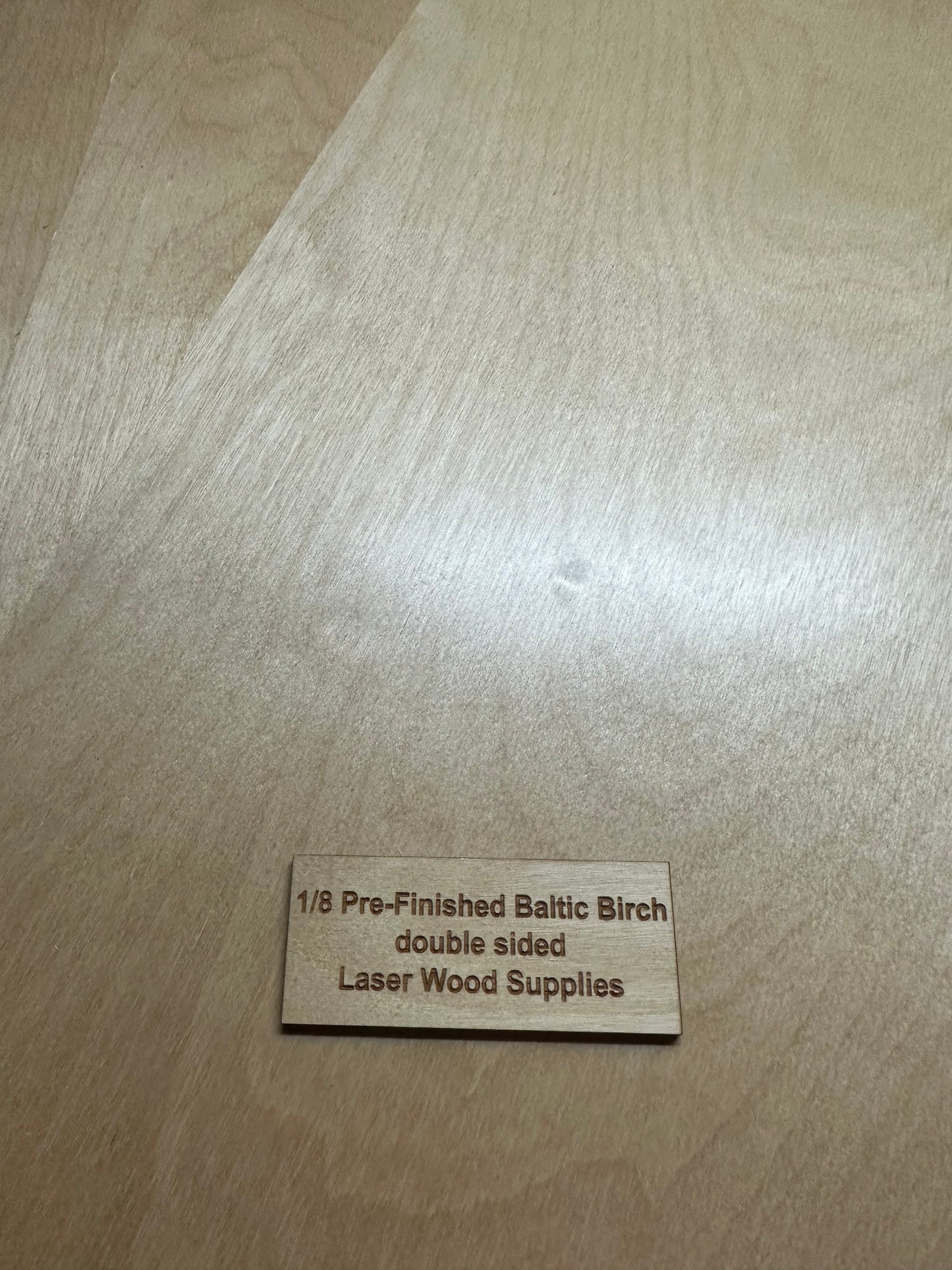 A Cut Above the Rest
Wow! I am really impressed by how nice this baltic birch looks and how smoothly it cuts. I definitely will be purchasing more. Shipping was quick, too.