BLACK MDF, 1/8 MDF painted black/ Perfect for Glowforge or other CO2 Lasers
Regular price
Sale price
$3.25 USD
Unit price
per
Our best selling product is now even better!!!  This 1/8 MDF comes Pre-Painted Black, with a semi gloss finish, saving you time in material preparation.  No masking, no problem!!!  Scorch can be removed with a baby wipe, a cloth with isopropyl alcohol, Windex, etc. 
I still like to mask materials, but as you can see in the video, it is not required.
Made from the same MDF that we have carried for over 3 years, this material is perfect for engraved projects.
Black on 1 side, smooth MDF on the back. 
Boards are cut 11 3/4" x 19" by hand. There may be slight variations but will be very close to the size listed. 

We have been using this wood for about 3 years and have been very happy with the results.  This wood is great for all your crafting needs: Glowforge, Hobby Laser, Wood burning, CNC machine, Sign Making, etc.
This MDF is NAF (No Added Formaldehyde), ULEF rated.

RECOMMENDED SETTINGS: Proofgrade Medium Draftboard. This is a good starting point but may need to be adjusted to your specific machine/conditions.***

 ****************
All Continental US and non PO Box orders are shipped via UPS Ground.  Shipping rates are as follows:
MDF/WHITE MDF/BLK MDF/BALTIC BIRCH
Medium Box  $18 ---- 1-12 sheets
Large Box  $24 ---- 13-25 sheets
XL Box $32 ---- 26-50 sheets
ALL OTHER 1/8 MATERIAL, EXCEPT FOR POPLAR
Medium Box  $18 ---- 1-10 sheets
Large Box  $24 ---- 11-20 sheets
XL Box $32 ---- 21-40 sheets
Share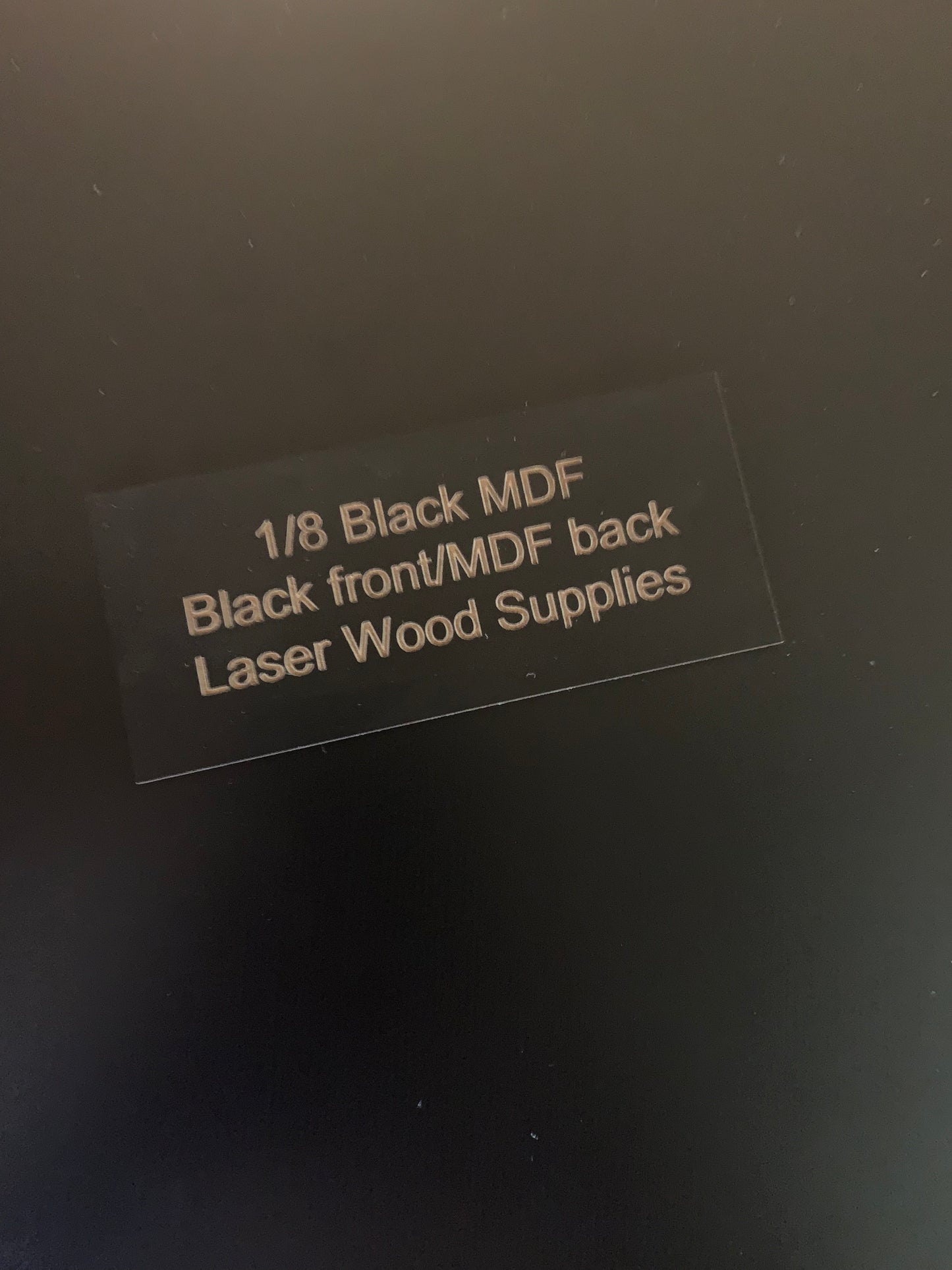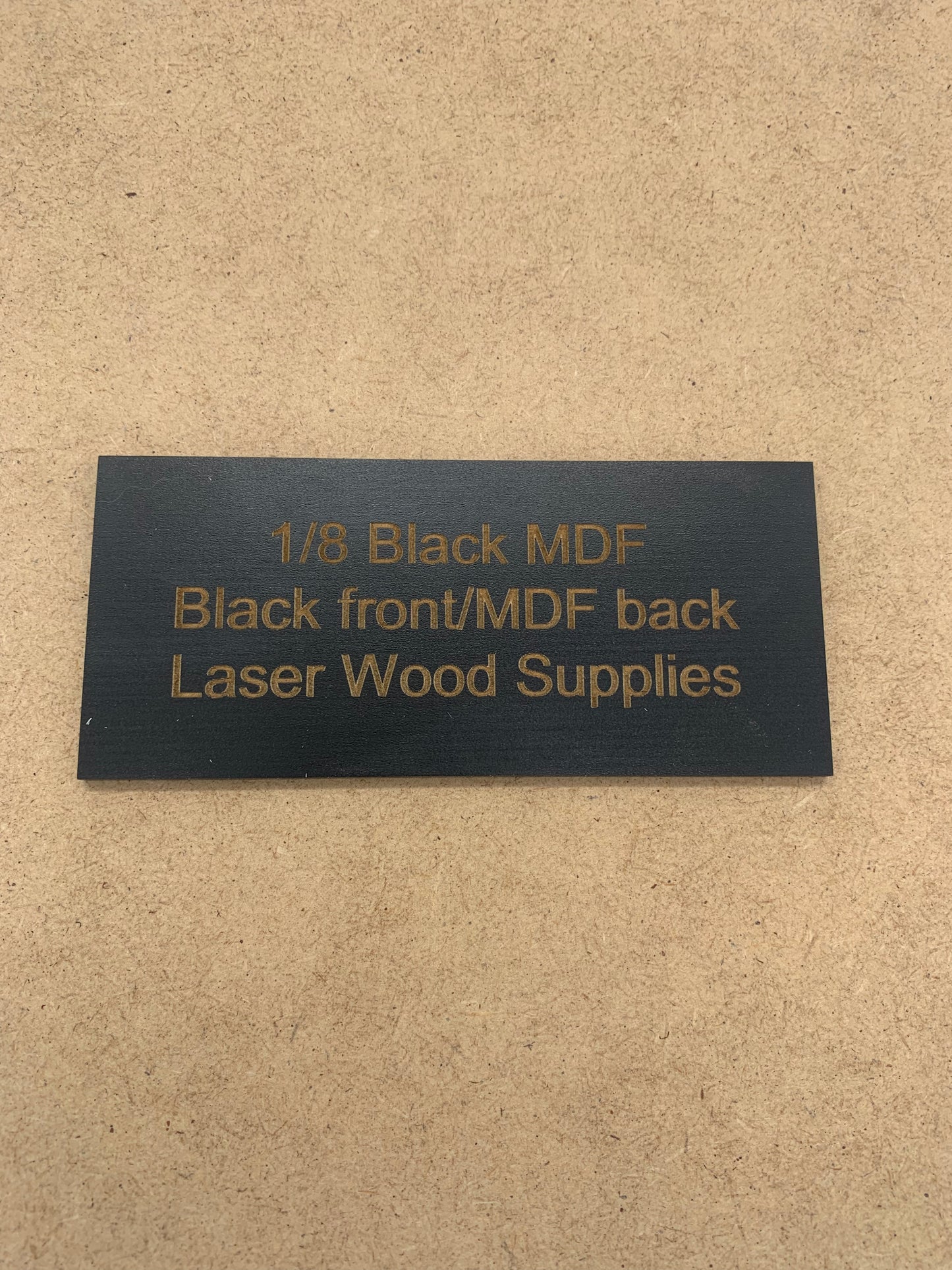 The BEST!!
LOVE, LOVE, this wood!! It cuts like butter and looks absolutely fantastic.
Great product
this is my go to place for black and white mdf. Always a great product and always ships fast!
Would buy again!
This is a wonderful product. Cuts beautifully and looks great. My only suggestion is to actually mask. With it unmasked, it caused flaming and didn't cut everything through using Proofgrade settings. Once masked, it cut like a dream with no flames...worth the extra minute to mask.
Cut Perfectly!
Great product! Cut perfectly in my Glowforge Pro. Great quality-beats the higher price suppliers hands down! Super fast shipping too. Will definitely be a repeat customer!
Great product!
I was looking for a new source for black MDF and I'm so glad I found this! It's a top quality product and I will definitely be back for more!